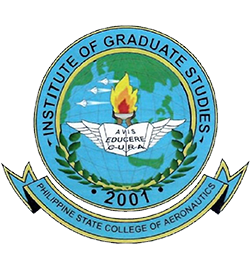 institute of GRADUATE STUDIES
Master in Public Administration (MPA) Specializing in Governmental and Airport Administration
Essential conceptual skills and knowledge in public administration focusing on government and airport administration are required. The course exposes the students in various economic, political, socio-cultural and behavior factors affecting public administration not only in the Philippines but also in other countries. Different government policies and practices in the contemporary government and airport administration are avenues for the discussion and analysis using techniques in research and case analysis.
Subject along airport administration and aviation education are offered to afford those in the aeronautical and related courses additional advances studies related to their baccalaureate courses.
Master of Education in Aeronautical Management (MEAM)
This program will augment the basic knowledge of aviation and non-aviation professionals who are planning to work as mentors/instructors in the field of airline management and operation, government regulatory bodies in aviation, military aviation, and general aviation and MRO sectors.